I would like to address a topic that people don't often discuss with others, but is a problem for so many…especially children!
POOP!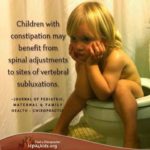 Did you know that constipation is one of the most common issues plaguing people of all ages in the US? A survey by NCBI (National Center for Biotechnology Information) found "it is estimated that over 4 million people in the United States have frequent constipation. Constipation was the most common digestive complaint in the United States, outnumbering all other chronic digestive conditions."

This is highly affecting children as well;
"Constipation affects up to 30 percent of children and accounts for an estimated 3 to 5 percent of all visits to pediatricians. The peak prevalence is during the preschool years in most reports. There is no consistent effect of gender on the prevalence of childhood constipation."
This information IMMEDIATELY makes me think; Of course the peak is in preschoolers! What happens to kids age 3-5 going to preschool?!
*Nervousness/anxiety of new surroundings
*Poor/picky diets-namely too much sugar and not enough water
*Many are newly potty trained or possibly still wearing a pull-up
…this list goes on…
Sadly, most of these cases are treated via drug prescription, commonly Miralax, which is approved by FDA for ADULT — USE ONLY! Also, this drug is meant for TEMPORARY use…
NY Times posts an article stating; "Instead, Miralax has become a long-term solution for childhood constipation — a problem that can be troubling not just physically, but also emotionally — rather than a short-term fix so that parents can change their children's diets to include more fruits and vegetables. "I've had kids on it daily for years," said Dr. Scott W. Cohen, a pediatrician in Beverly Hills, Calif., adding that he will generally refer them to a specialist in prolonged cases. For children with chronic constipation who are not being helped by dietary changes, "We literally give it like water."
There have been thousands of parents reporting side effects such as these;
Jeanie Ward's daughter Nicole was placed on MiraLAX when she was just 3 1/2-years-old. Within ten days, she says Nicole turned manic, aggressive, and paranoid. "It was horrifying to see my daughter change like that and to not come completely go back to normal," Ward said. "Near psychiatric events with paranoia, mood swings, aggression, rage," parent Jeanie Ward said.

"He had the rage, fears, phobias, anxieties," parent Sarah Locatelli said.

"We saw a lot of the anger, a lot of the rage, a lot of the aggression," parent Mike Kohler said.
Read more here: http://abc7news.com/news/parents-say-over-the-counter-medicine-is-sickening-kids-/1760065/
How Can Chiropractic Help??
Chiropractic adjustments have been proven to assist in alleviating the pain and symptoms of constipation in pregnancy, infants, school age children and into adulthood. The nerves that exit your lumbar spine directly supply function to the bowels. So it makes complete sense that any interference to these nerves can create a problem…commonly CONSTIPATION!
Adjustments are always the first place to start in our family when such an issue arises. We then look to diet, water consumption, getting active, etc. Please consider chiropractic care FIRST, before the use of drugs for treating GI issues. We specialize in pediatric and family care. We would love to care for you and your loved ones! Pass it on 🙂