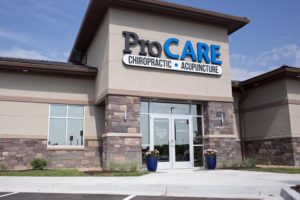 ProCARE Chiropractic Olathe, is a full-service chiropractic, acupuncture and rehabilitation clinic located in Olathe/ Overland Park Kansas, one mile from the Garmin Headquarters. ProCARE is proud to serve the Kansas City Metro, Olathe, Overland Park, Leawood, Lenexa, Gardner and Spring Hill.
ProCARE Chiropractic is the place for all your injuries and injury related concerns. We offer a variety of services dedicated to helping you maintain an active lifestyle without suffering. ProCARE Chiropractic offers comprehensive chiropractic care including examination, diagnosis, X-ray and management. We also offer acupuncture, full-injury rehabilitation and performance enhancement for the spine and extremities.
You're sure to find patient-centered care that meets your individual needs,whether you're injured in an automobile accident, a slip on the ice or a sporting event or are interested in enhancing your current level of performance or resolving a painful condition. At ProCARE Chiropractic we are dedicated to helping you achieve your health goals.
If you are interested in receiving more information about how we can help you with your injury, or if you would like to set up a Chiropractic, Acupuncture or Rehab appointment, call us or e-mail us and we'll happily send information your way.