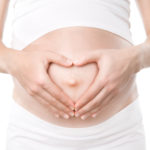 Another happy report came in this morning from an ecstatic mom-to-be…"Baby flipped!"
Here is the background; Patient was referred to our office at her 37th week of pregnancy as she was just informed her baby is in breech presentation. She was scheduled by her OBGYN for external cephalic version (ECV) for later in the week. If you are unsure of what ECV is, it is an attempt to turn the baby to a head down position with the use of external force on the abdomen. I have not had this procedure performed on me, thankfully, as I see it to be extremely aggressive and hear it to be extremely painful. There can also be many complications resulting from ECV including premature rupture of membranes, changes in baby's heart rate, placental abruption and preterm labor typically ending in emergency cesarean section.
This can all be very scary, especially for a first time mother. I was pleased to adjust this patient with the Webster technique as well as use acupuncture on specific points for assisting with moving baby to head down position. The Webster technique is a chiropractic adjustment that is a gentle and specific sacral adjustment to help facilitate the mother's pelvic alignment and nerve system function. This in turn balances pelvic muscles and ligaments, reduces torsion to the uterus and offers a greater potential for optimal fetal positioning. After only 2 adjustments/acupuncture treatments, the patient followed up with the OBGYN who reported what the mom-to-be already suspected…"no need for 'version' as the baby is in vertex position".
Although I have lost count of how many "success stories" like this we have heard in the office, it makes my day every time and brings a smile to my face knowing we took something that could have been a negative and traumatic experience and made it beautiful again!
I will continue to see this patient until delivery as adjustments to the lower back/pelvis are shown to reduce labor time by 33%! Please keep this in mind and if you hear someone mention that they or someone they know have a breech positioned baby, I hope you will think of me!!